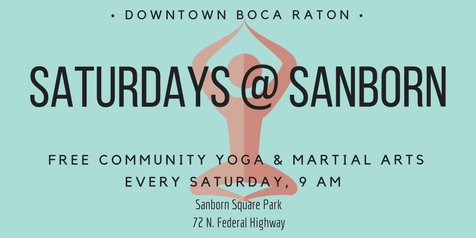 Every Saturday morning, nearly 200 Boca Raton area residents gather in Sanborn Square Park in Downtown Boca Raton to kick-start their weekend with a morning of free community fitness classes. This weekend community event takes place year round and attracts people of all ages from our diverse community, who share a common love for health, fitness, the outdoors, and community connection.
The event begins with a free community yoga class, presented by Leslie Glickman, owner of the popular Boca Raton studio, Yoga Journey. The class that will be offered is intended for all levels of Yoga experience, so whether you are a seasoned Yogi or are just beginning your Yoga practice, this class can be adapted to your specific needs. Beginning at 10:30 am, there is a Capoeira Martial Arts class, presented by Cia Do Axe, for people ages 12 and up. Capoeira is an Afro Brazilian form of Martial Arts that combines dance, acrobatics, and ethnic music. Known for its quick and challenging maneuvers, Capoeira serves to enhance flexibility, coordination, and strength, as well as the health and balance of the mind, body, and spirit.
If you have yet to attend Saturdays @ Sanborn we encourage you to check it out and participate in the unique fitness classes offered. What better way to spend a beautiful South Florida Saturday morning than fitting in a little bit of outdoor exercise while spending time with...