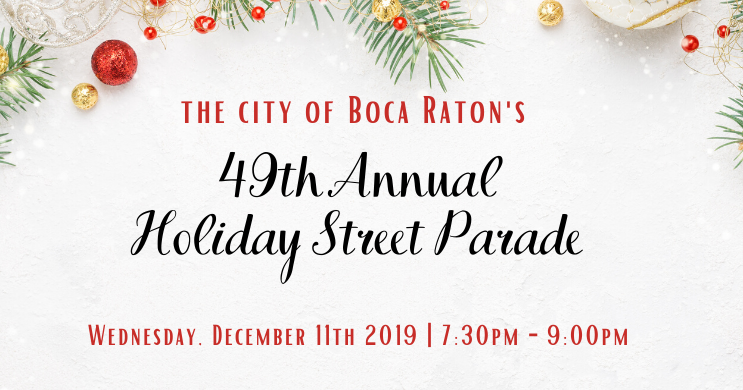 The holiday season is drawing near which means that the City of Boca Raton's annual holiday events & festivities are just around the corner! On Wednesday, December 11, 2019, the City of Boca Raton's 49th Annual Holiday Street Parade will welcome more than 70 floats and groups to entertain onlookers as they bring dance, lights, and music to Federal Highway in East Boca Raton. Drawing thousands of attendees each year, the annual Boca Raton holiday street parade is one of the most highly anticipated events of the season! Each year the city selects a unique theme for the parade, with this year's theme being "Out of this World!"
The parade route begins at Federal Hwy & SE 5th Street, traveling north to Mizner Park Amphitheater. Federal Highway will be closed to vehicular traffic between Glades Road and Camino Real from 5 pm to 11 pm for the parade. The City of Boca Raton recommends that attendees walk, bike, carpool or utilize rideshare services to the parade. Free parking will also be available at City Hall (201 W Palmetto Park Rd), Building Administration (200 NW 2nd Ave), and Downtown Boca Raton Public Library (400 NW 2nd Ave).
Admission is FREE. For more information, please call 561-367-7073. We at ...