Boca Restaurant Month 2018
Posted by Stephanie Kukich on Thursday, September 6, 2018 at 3:39 PM
By Stephanie Kukich / September 6, 2018
Comment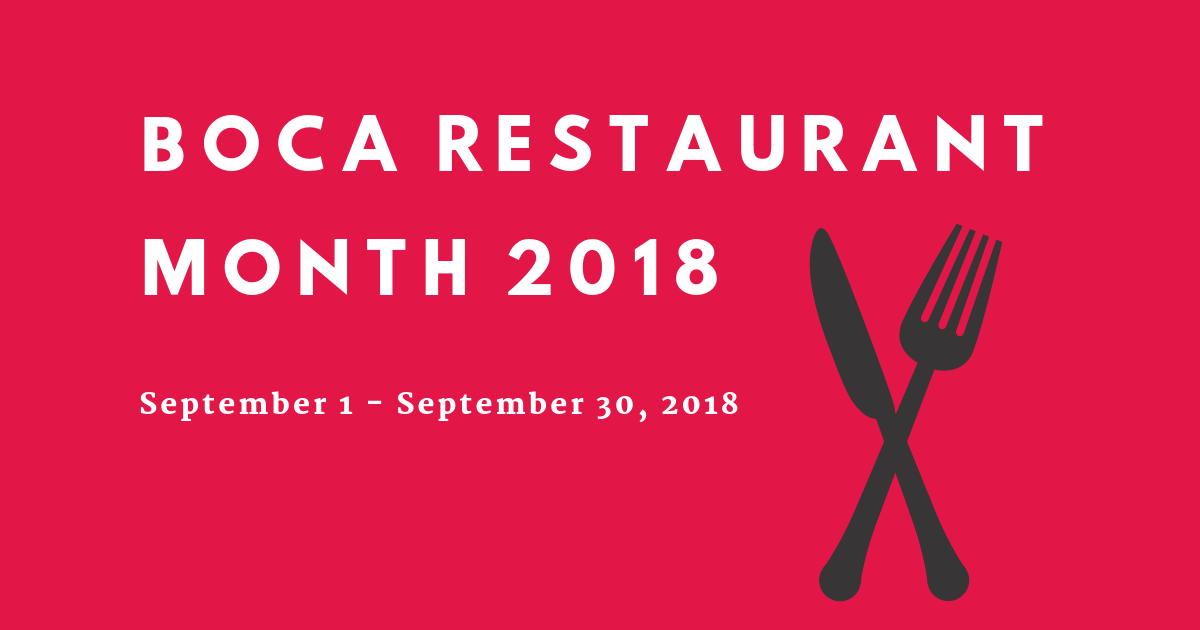 Back by popular demand, Boca Restaurant Month returns for its second year, with yet another incredible month-long restaurant promotion of Boca Raton's world-class dining scene which will run from September 1st through September 30th, 2018. Boca Restaurant Month offers the public the unique opportunity to indulge in a diverse array of delectable culinary experiences throughout Boca Raton without breaking the bank. More than 30 first-rate dining establishments located in the City of Boca Raton and the Greater Boca Raton area will be serving up mouth-watering three-course meals with a side of exceptional savings, starting from just $21 during lunch and $36 at dinner. Boca Restaurant Month 2018 also happens to fall just before the crowding and craziness of Boca Raton's "season" really hits, making it the perfect time to try a bunch of new restaurants or visit your favorite local spots if long wait times and crowded restaurants aren't really your cup of tea.
The line-up for Boca Restaurant Month 2018 features several returning restaurants from last year's event, as well as a multitude of new restaurants that decided to jump on board. Some of the dining establishments that will be participating this year include: Burton's Grill & Bar, DaVinci's Boca Raton, Henry's, Kee Grill, Louie Bossi's Boca Raton, Max's Grille, Oceans 234, Ouzo Bay, Prezzo, Ramen Lab, Tap 42, Temper Grill, The Locale, The Melting Pot, True Food Kitchen, Yakitori, and many more. Click the following link for the complete list of all participating restaurants with links to menus.
Whether you are a total foodie or just can't resist a great deal, you do not want to miss the exciting restaurant promotions that are happening now through September 30th during Boca Restaurant Month 2018! So, get out and explore the unique tastes and flavors of the world-class dining scene that exists right here in Boca Raton! Go ahead, treat yourself!