Boca Raton 2018 JDRF One Walk
Posted by Stephanie Kukich on Friday, April 6, 2018 at 4:16 PM
By Stephanie Kukich / April 6, 2018
Comment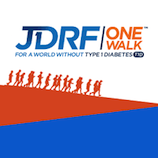 On Saturday, April 14th, 2018 the annual JDRF One Walk will be held in Boca Raton, FL at Mizner Park Amphitheater. The goal of this event is to help increase community awareness about Type 1 Diabetes (T1D) and to raise funds to support life-saving research for this pervasive disease. Hosted by JDRF, the leading global organization funding Type 1 Diabetes (T1D) research, the event will consist of a two mile trek through East Boca Raton.
Check-in for the event will begin at 7:30 am at Mizner Park Amphitheater with the walk starting at 8:30 am. The event is free and open to the public, with donations accepted and encouraged to help support the cause. Individual walkers, as well a corporate groups, families, and school teams are welcome to participate. Participants are free to walk, run, rollerblade, bike, etc. to complete the two mile trek however they prefer, as all participation & contributions are greatly appreciated. Complimentary beverages and refreshments will be provided to all who participate in the walk. Sorry, no pets allowed inside the venue.
If you are interested in participating in the JDRF One Walk, please click here to register online in advance. Visit the 2018 Boca Raton JDRF One Walk website for a list of individual and team participants, current fundraising progress, or to make a donation. JDRF One Walk has one main goal: to create a world without Type 1 Diabetes (T1D). Join the rest of the community on April 14, 2018 at the JDRF One Walk to help make a cure a reality! If you have any additional questions about the event please contact Esther Swann at eswann@jdrf.org or by calling (561) 801-7273.