A Tribute To The Jersey Boys at Mizner Park | November, 3, 2018
Posted by Stephanie Kukich on Tuesday, October 30, 2018 at 12:52 PM
By Stephanie Kukich / October 30, 2018
Comment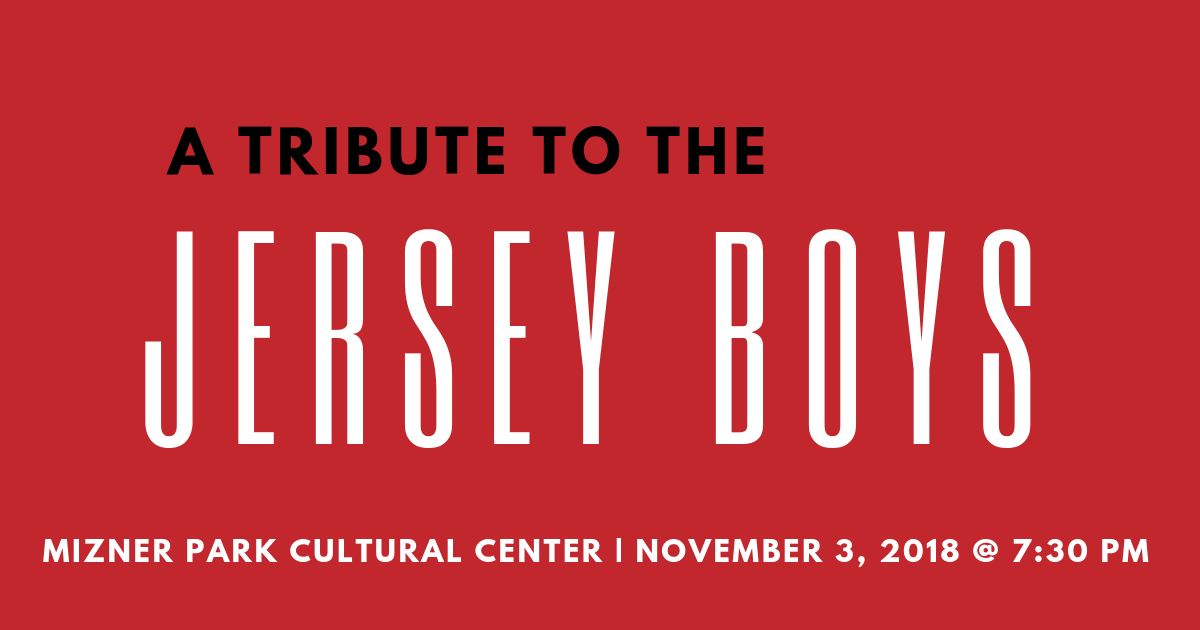 On Saturday, November 3, 2018, the Mizner Park Cultural Center will host a tribute show unlike any other, with an intimate live performance of A Tribute To The Jersey Boys. This compelling tribute performance features an incredibly talented group of renowned musicians including William Cintron as Four Seasons frontman and powerhouse vocalist, Frankie Valli, as well as Walter Hochhauser, Carmine DeSena, and Sal Sofia as the remaining members of the group.
Featuring hit songs like "Big Girls Don't Cry," "December 1963 (Oh What Night)," "Walk Like a Man," and many more, this nostalgic performance will take you right back to 1962, the year that the Four Seasons released their first hit single "Sherry." This catchy tune, which ranked #1 on the Billboard charts for an amazing five consecutive weeks, launched the dynamic vocal group to fame and marked the beginning of their incredible chart-topping musical career. A Tribute To The Jersey Boys promises to be a superb & unforgettable musical experience that will have the entire crowd up on their feet dancing & singing along
The show will begin at 7:30 pm at the Mizner Park Cultural Center located at 201 Plaza Real within the upscale Mizner Park Shopping & Lifestyle Center in Downtown Boca Raton. The theater offers an intimate experience with limited assigned seating, so advance ticket purchase is highly recommended. Ticket prices range from $27.50 to $35.00. You may purchase tickets in advance online or by calling the Mizner Park Cultural Center box-office at 844-672-2849. In the event that tickets have not sold out, the box office will be open one hour prior to the show for same day ticket purchases.
Don't miss out on this one night only live tribute to The Jersey Boys, and experience the timeless hits of Frankie Valli & the Four Seasons, the music which has continued to captivate fans & people of new generations for over 45 years! As always, we at Champagne & Parisi Real Estate look forward to seeing you there!